Glossary of Terms I Use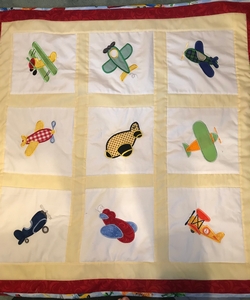 Applique Quilt:
Applique is the art of stitching fabric on top of fabric. It requires a lot of patience for hand applique, less so for designs especially created for an embroidery machine. These happy little airplanes are appliqued.
Backing:
The cloth on the back of the quilt. Crib and lap quilts can usually be backed with 45" fabric. Twin quilts can be backed with 90" fabric. Double and Queen quilts need 108" fabric.
Batting:
The layer in between the quilt top and quilt back. Batting can be loft (a poly fill layer), cotton or bamboo quilt batting, or fleece.
Binding:
The last step of making a quilt. This is the piece of fabric that goes around the outer most edge of the quilt.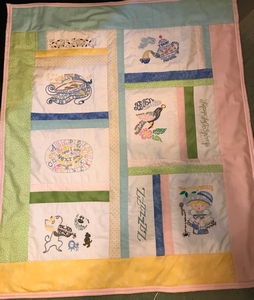 Border/Frame:
Fabric around the outside edge of the quilt. It is usually 3" to 6". It frames the quilt designs and can be used to enlarge the quilt.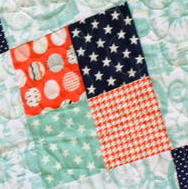 Four Patch/Nine Patch/etc:
The number of squares stitched together to create a design. The example of a quilt on point is also an "on point" design.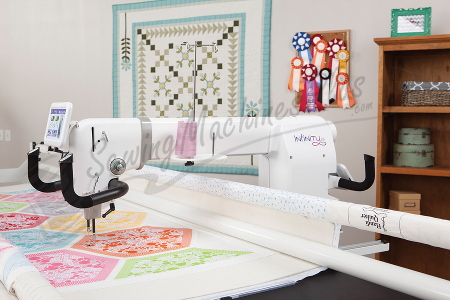 Long Armed:
A long arm quilter is the machine used to stitch beautiful and complex designs on a quilt. Some quilts are just too large for me to be able to stitch them so off to the long arm quilter they go. The current price is usually $.015 to $.02 per square inch. To find an approximate cost of long arm quilting, multiply the width by the length then multiply that by the cost of the quilting.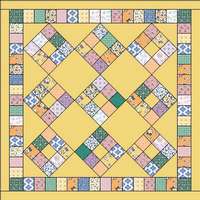 On Point:
Squares stitched together in such a way that results in a diamond design.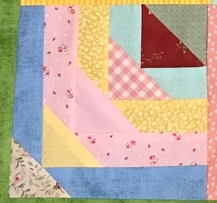 Paper Pieced:
A fun project. Stitching fabric onto a design printed on a piece of paper. This is a follow the numbers sort of task. Stitching is done in a specific order to create the final design. This example is called goose tracks.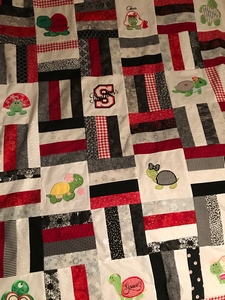 Pieced:
The process of stitching several different pieces of fabric together to make a design. Pictured is a Rail Road design. Log Cabin, Nine Patch and Irish Chain are all examples of pieced quilts. There are 1,000s of design names. These are just a few of the designs I have used in the making of the quilts.
Memory Quilt:
Quilts made to keep the memory of a loved one close. These quilts are made from clothing.
T-shirt:
Quilts made from t-shirts you want to keep but no longer choose to wear.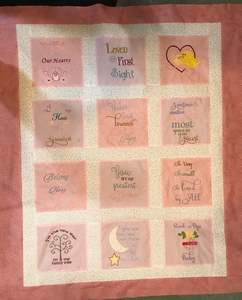 Sashing/Guttering:
The strip of fabric stitched between the squares. It is used to frame each square and/or to enlarge the quilt. Sashing width varies from 1/2" to 2".
Stitch in the Ditch:
The process of stitching in the seams of the quilt. This process is used when the design is most important. Embroidered quilts (such as the one above) are an example of quilts I would stitch in the ditch.
Whole Cloth:

This refers to the fact that only one piece of cloth was used to make the quilt top. (It is not pieced or stitched together in any way.)




===========================================
Covered Blessings, Jenks, Oklahoma, USA Office:(918)298-6884 Cell:(918)809-8770.
Please note that phone numbers are shared with our other business, Jenks Hypnosis.
Or you can call or text my cell, or email me at: nancy at coveredblessings dot com. (click for email popup)