Welcome to Covered Blessings Quilt Designs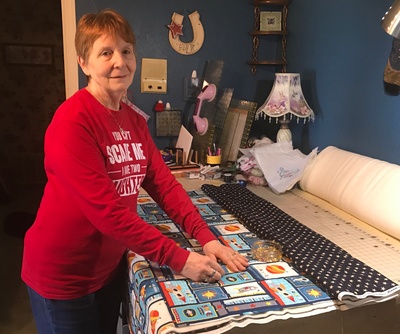 My goal is to provide you with heirloom quality quilts designed to pass from one generation to the next. The quilts I made for my girls 40+ years ago were used by all six of my grandchildren and are now waiting to bless the great grandchildren and many generations yet to come.

My Guarantee

I stand behind my quilts 100%. If you have any problems with the workmanship of the quilt you purchase, return it to me and I will repair or replace it at no cost to you. I will also refund your shipping cost of returning the quilt to me. In the 15 years I have been making quilts, I have had only one return.

Browsing My Shop

In the pages of our site, you will find embroidered quilts, pieced quilts, story book quilts, and applique quilts. You may find a quilt you like that is already in stock or you may find ideas to spark designs for a quilt that is uniquely yours. I am limited only by the fabric and designs I can find. Special Order quilts can be personalized with names, birth information or just about anything else you'd like. Special Orders require about 2 weeks to complete - especially if fabric must be ordered online. If you don't find something you like, contact me and we'll figure out just what you want and how I can make it for you.

More information on this is coming soon.



Purchasing and Paying and Shipping Quilts

I request one half of the purchase price up front for a Special Order quilt. Payment methods are flexible. You may pay for your order by using PayPal, by mailing a check or I will contact you to obtain your credit card information. I do not accept credit card numbers via the internet or email. All orders paid via check will be held until the check clears. I offer free shipping anywhere in the contiguous U.S.